Improving your results and accelerating progress toward your goals does not often require a U-turn, or even a complete change of direction… But rather, a simple lane change or two to better position you and your team or business for success.
Use the four simple steps of the Changing Lanes Approach: Decide, Look, Signal and Change. Knowing and completing them, using the worksheets and resources provided with the course, will help you feel confident and motivated to act on well-laid plans that position your team, your business, and yourself for success. Also, to achieve and sustain the progress you desire while looking for new opportunities to improve and gain momentum toward new goals as you proceed with your life and leadership.
There are some extra steps you can take to gain that momentum and compound your success in the future, helping you to become a reliable change agent, regardless of the endeavor. These may make the biggest difference of all.
Consider This
Let's fast-forward. Assuming you've read this far about the Changing Lanes Approach – and have completed, or are at least underway with the process, consider these points:
You've made this change for a reason… To put yourself, your team or your entire company in a new lane. In position to succeed. On a new path to prosperity. Be sure to see it through and adapt along the way to achieve the progress and success you had in mind.

Ask yourself "What else is possible? What can we do from here?"

Just because you've had one successful lane change doesn't mean you won't have to do it again. (How many times do you change lanes on the way to any destination?) You want to be constantly scanning the road ahead, whatever your priorities, and use the Changing Lanes approach to easily and reliably position yourself, your team or your business for success.
Steps you can take to Gain Momentum:
1. Measure and announce progress as you set and achieve milestones on the way to your goal(s).
2. Be vigilant about new opportunities and obstacles you will encounter that weren't visible from your previous lane. Survey the horizon, the market, or other parts of the company. Keep your head on a swivel. Ask your team to do the same.
3. Start a new ritual. Complete a Quarterly (or annual) Changing Lanes Report to list where your organization can make change to improve. You can get a model for this report with the Changing Lanes for Business Coaching Program.
4. Repeat the process and Change Lanes again, when beneficial or necessary, to maintain or accelerate additional progress.
This one will compound your progress:
5. Pay it forward. Share this Changing Lanes approach with colleagues and spread it throughout your culture. Reduce resistance to change and accelerate the company's success by developing other leaders and change agents within the organization who not only understand the approach, but who will welcome and help with each step of the process.
As Jim Rohn, the well-known entrepreneur, author and motivational speaker famously said: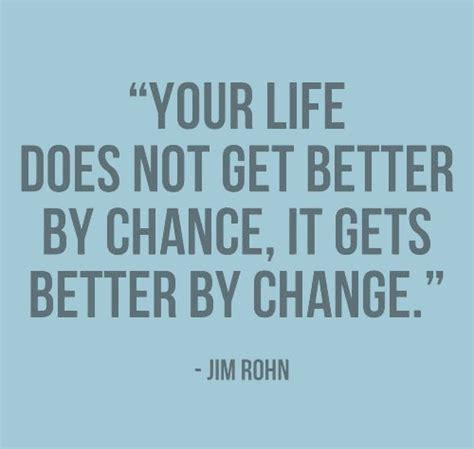 Would you like to apply the Changing Lanes Approach to your project or business. Reserve your spot now in the new Changing Lanes for Business Coaching Program.
Four steps. Four weeks. Plus, private personalized coaching each week to ensure your success.
Lead the changes you want to see and learn to succeed with change for a lifetime!
Custom private coaching programs are also available for teams or special events.
The journey of a thousand miles begins with a single step. Here is one that you can take to start your journey with confidence: Schedule a FREE call with me to discuss how you can gain momentum and accelerate your success.
See you in the fast lane!