Four Simple Steps to Accelerate Progress and Lead Successful Change for Your Business
Change is inevitable. You will not only face it the rest of your life, but the pace of change is accelerating! Leading productive change may be the most valuable skill and talent in the market today.
Yet business leaders and teams often find themselves struggling to keep pace with evolving conditions. Stuck with problems and poor performance. Uncertain, and perhaps even worried about how to proceed. They hope or wish for change, but don't know how to bring it about. Or worse, try solutions that waste time or fail completely.
If you've experienced this, you're not alone... Especially with recent disruptions that have swept the planet, touching virtually every business and industry. Business leaders cite navigating change as the biggest on-going challenge they face.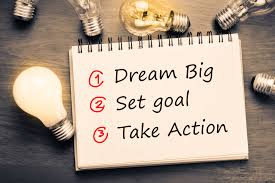 What if there was an approach to leading successful change that worked? One that made it simpler, safer and easier to make wise choices and take action to position yourself and your team for success?
What if it worked on problems or opportunities, big or small, in any situation, and helped to navigate from where you are now to where you really want to be? And do so with the support of your team and colleagues?
Good news… There are four simple, yet essential steps that work every time.
THE CHANGING LANES APPROACH
Having navigated significant change on many occasions, I found the need to develop a sensible and non-threatening approach, for myself and others, that led to reliable success. I call it Changing Lanes because it follows the same steps you would (hopefully) use when driving. Here is a brief summary:
Step #1 DECIDE to Change
(Duh...) While this may seem intuitive it is actually one of the two biggest reasons why critical changes fail to happen. Uncertain about what to do, lacking resources, options, clarity, support, or confidence, many leaders simply choose to remain stuck, proclaiming that "...it's just the way things are around here". Or, blame their poor performance on circumstances and other factors conveniently beyond their control.
There are seven vital questions to answer that will help you make a sound decision on whether, when, and how to implement your change.
Step #2 LOOK for options and a clear path
Like you would on the highway, look for opportunities to Change Lanes that will improve progress and accelerate your success. Make sure the path you're planning is clear and safe. Not filled with hazards, threats, detours or roadblocks that would set you back. Identify and work with constraints, avoiding risks unless you're sure you can clear them when they arise.
An honest and thorough understanding about what's in place to support your change as well as obstacles or people you'll have to overcome is vital to your success. Knowing that the change you propose is both safe and sound for the organization will help you to develop support. There are also times that not changing can lead to greater risk than doing things differently.
A checklist for Step #2 helps to make sure you and your team are aware of opportunities and risks before you Change Lanes. (A step so often missed by even careful leaders.)
Step #3 SIGNAL the Change
"Poor communication is the root of every problem." Changing lanes without signaling is as reckless, risky, annoying and dangerous in business as it is on the road. Letting everyone involved know that the change is coming, why it is important or beneficial, and what they can or must do to make it succeed, is essential. Beyond your team and colleagues, this can also include vendors, contractors, media and other stakeholders. Understand why and how to signal change for anyone affected by the pending change.
Our SIGNAL the Change worksheet provides a no-miss approach to communicate well and build support for any change you want to implement.
Step #4 CHANGE LANES
Now, it's time to act... Execute your plans for change.
Grant Cardone said "A majority of the problems people face in their lives are the result of not taking enough action."
This is the second big reason why important changes fail to happen. Business leaders may decide to change. They research alternatives and declare that change is coming, but never act or follow-through sufficiently to succeed. Here are three perils of inaction:
If your dream isn't crystal clear, or you're not sure of the way, you're not likely to take the actions necessary, or follow through with enough conviction, confidence and persistence to achieve it.

If you signal, but don't change, your reputation will develop as a reluctant or ineffective leader.

Staying the same… Ask yourself: If you maintain your current situation, what will your business look like in a year? Or 5-years?
Sometimes we need patience. Sometimes we need action. Now is the time for action. The Changing Lanes Roadmap pulls your plan together and helps you to complete the change accelerate progress and sustain the pace and path you've set for your business.
Improving your success and achieving your goals does not often require a U-turn, or even a complete change of direction… But rather, a simple lane change or two to better position you and your team or business for success.
Use the four simple steps of the Changing Lanes Approach: Decide, Look, Signal and Change to improve progress and achieve your goals as you proceed with your life and leadership.
There is a fifth step, which may make the biggest difference of all. But we'll save that for later.
If you would you like to apply the Changing Lanes Approach to your project or business, here are two great ways to get started:
1. Reserve your spot now in the new Changing Lanes for Business Coaching Program.
Four steps. Four weeks. Plus, private personalized coaching each week to ensure your success.

Lead the changes you want to see and learn to succeed with change for a lifetime!

Custom private coaching programs are also available for teams or special events.
2. Schedule a FREE call with me to discuss the changes you'd like to make and how you can use the Changing Lanes Approach to succeed.