That's good news!... I mean, who else would we want in charge of our future?
One thing we know about the future is that it won't be the same as it is today.
Typically, we want it to be different. We want it to be better!
Here are four keys to help make the most of your future. And especially the year ahead.
1.
Be clear about what you want
What do you want more of?
Not just generalities like "more time, more money, more customers, or more sales".

Be specific. To hit the bullseye, you have to see the "X"
What do you want less of?
Not just "frustration, aggravation, or uncertainty".

What's causing those conditions?

What are you tolerating to let this happen?

Once you identify the cause, you'll know what to eliminate or avoid to improve your future.
Nothing beats the power of a made-up mind. Once you're clear about what you want more or less of, you can make plans to head straight in that direction.
2. Plan for your success
Knowing what you want more or less of is just a wish until you have a plan to achieve it.
Begin with the end in mind. Then list the action steps and milestones that will lead to your success.

A delicious meal starts with a clear vision, followed by the addition of perhaps dozens of ingredients and steps taken, in order, for it all to come together on time in the end.

Break your plan down into what needs to happen this year, this quarter, this month, and this week, to create the future you have in mind.
This works for your personal life as well as your business.
3. Take action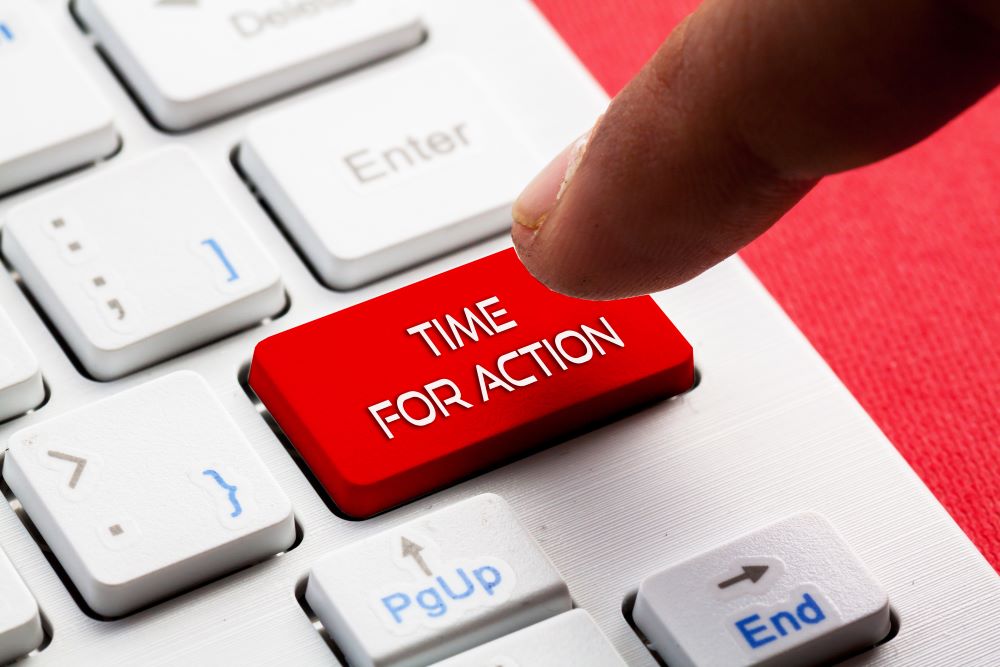 Make your mind up that the future you want is non-negotiable. Then get after it.
Knowing the steps to take today, this week and this month will allow you to move confidently and persistently in the direction of your ideal future.

This may seem intuitive, but so many times, I've seen people and business leaders start with good intentions. They may even have a plan to succeed but then fail to act or follow through. Falling prey instead to distractions and challenges [set-backs] that stall their progress.
"You don't make progress by what you intend. It's what you do that counts."
4. Own your situation and your results
Articulated so well-in the bestselling books "Extreme Ownership" and "Spark – How to Lead Yourself and Others to Greater Success", it's essential to "own" your situation and your results.
What's the point in blaming others and making excuses? I've never seen either of those energy wasters lead to a more positive future.

If making someone else responsible for your failure will achieve your goal and make you feel better, then go for it.

Otherwise, it's just another distraction, wasting valuable time and energy you could be applying to make the future you really want.
Taking full responsibility for your actions and outcomes is actually liberating. An essential ingredient for independence, self-confidence, and self-esteem.
If something in your plan fails to happen properly or on time, first ask, "What could I have done to make this work?"

Then use your answer to level-up and improve your success going forward.
There's no one to blame, and it's not a mistake unless you let it happen more than once.
The Future Is What We Make It.
Today's decisions, plans, and actions will shape that future.
So will our indecision and inaction.
Better to be decisive and act in the direction of our ideal future than be indecisive and wait to see what the future will bring.
The old saying certainly applies here about three kinds of people:
There are those who make things happen.

Those who watch things happen.

And those who say, "What happened?!"
Which one are you?
If you want to make a better future… If something's not right, or something could be better with your life or business, something has to change.
Get from where you are to where you want to be.

A simple approach to lead successful change
There are 4 simple steps that business leaders can use to lead successful change with clarity and confidence. Create reliable support for change, rather than having to struggle and overcome resistance.
The Changing Lanes for Business Coaching Program

Learn 4 simple steps to lead successful change in just 4 weeks.
Make the change(s) you'd most like to see in your business right now.
And learn to lead successful change for the rest of your career.
This program will give you a simple approach to succeed - EVERY TIME.
Schedule a complimentary call to see how the Changing Lanes Coaching Program can help to achieve your business goals.